News
A.H. Meyer at the first Rolling-on-Interroll-Global-Summit
In September, the A.H. Meyer Maschinenfabrik GmbH participated at Interroll's Global Summit in Barcelona. Thomas Roess, Chief Executive Officer (CEO) of A.H. Meyer, met 130 representatives of the worldwide material handling companies at the business event.
A.H. Meyer selected as Rolling On Interroll Partner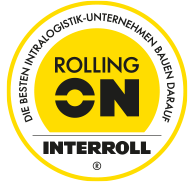 A.H. Meyer Maschinenfabrik GmbH is new Rolling On Interroll partner. The exclusive program of the Swiss world market leader for conveyor rollers and drives aimes exclusively at selected Interroll customers. Inter alia, it is based on a long-standing business relationship and the mission-critical use of Interroll products.