Our production line can, besides Erosion Control Blankets produce also mulch blankets, roof greening blankets, folimatt blankets and other blankets for special applications made from natural fibers like coir fiber, straw, rice straw, excelsior, jute, hemp, etc. as well as synthetic fibers. The production line is individually fitted to the needs of our customers and can vary in size, layout and accessories.
Specifications
Working width: max. 6.100 mm (20 ft.)
Fleece weight: max. 3000 g/m2 (0.62 pounds / sqft.)
Finished blanket roll: up to 762 mm ( 30")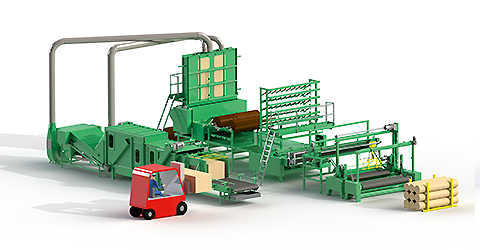 Components (also available individually)
Bale opener - new two-stage design
Our new and already well-proven two-stage bale opener is designed for loosen up round or
square bales made from wheat straw, rice straw, excelsior, jute, hemp, etc. The two-stage design
prevents clogging and malfunctions and allows to process also highly compressed fiber bales such as coir- an PP-fiber, etc.
The ouput capability is variable and dimensioned for individual customer demands.
Blending Unit
The blending unit mixes distinct synthetic and/or natural fibres in the needed ratio.
Fleece Laying Unit
The fleece laying unit lays an even fleece of adjustable thickness onto a backing fabric.
Stitching Machine
The stitching unit combines the backing fabric with the fibre fleece to one mat.
Cross cutter with longitudinal cutting unit
The cross-cutter with longitudinal cutting unit cuts the mats into desired widths and lengths.
Automatic Roll-Up Unit (Servo controlled)
The automatic roll-up unit contineously rolls up the produced mats. The servo- controlled operation of the
unit allows a high tension and tight winding and results in very compact rolls, cardboard cores can also be used.
Electronic Control System / PLC
All machines and processing data can be displayed on the display monitor (touch panel).

Accessories

Stretch Wrap Device
The stretch wrap device is optionally available with the automatic roll-up unit.
It wraps the produced rolls in stretch foil before ejecting.